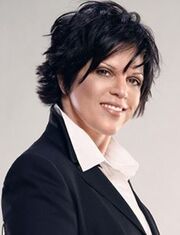 April Terri Winchell
 (born January 4, 1960) is an American voice actress and also the daughter of voice acting legend, Paul Winchell.
April Winchell provided the voice of Auntie Matta and The Princess from the American stop motion series Bump in the Night. She has done various animated roles for Disney and is also the current voice of Clarabelle Cow. 
Roles in the Series
Edit