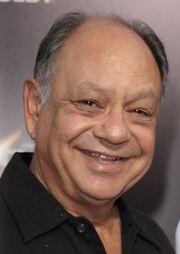 Richard Anthony "Cheech" Marin
(born July 13, 1946) is an American comedian, actor, voice actor and writer who gained recognition as part of the comedy act Cheech & Chong during the 1970s and early 1980s with Tommy Chong, and as Don Johnson's partner, Insp. Joe Dominguez on Nash Bridges.
Cheech Marin was the voice of Juaquin Gusanito Sin Maños, the Earthworm in the Bump in the Night Christmas special, "'Twas the Night Before Bumpy."
He has also voiced characters in several Disney productions, including Oliver and Company, The Lion King, Cars, Cars 2 and Beverly Hills Chihuahua. In Disney's "The Lion King", Cheech voiced one of the hyena's, Banzai, while Jim Cummings (Mr Bumpy's voice actor) also voiced Ed the hyena.
Role in the series
Edit