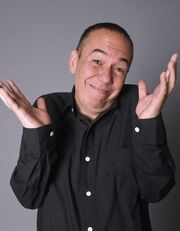 Gilbert Gottfried
(born February 28, 1955) is an American stand-up comedian, actor and voice artist.
He was the voice of Odiferous J. Stench the stink bug character from the Bump in the Night episode "Love Stinks"
His numerous roles in film and television include voicing the parrot Iago in Disney's Aladdin, The Beetle in Thumbelina and Digit in the children's cartoon/educational math-based show Cyberchase.
Gottfried was also the voice of the Aflac Duck until 2011. He has hosted a weekly podcast featuring an interview, usually with a different comedy writer or comedian each week, since May 2014. 
Role in the Series
Edit