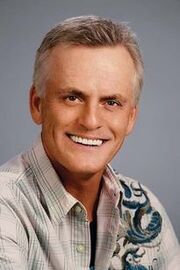 Robert Fredrick "Rob" Paulsen III
 (born March 11, 1956) is an American voice actor. who has worked on many classic shows from the eighties, nineties and today. He is the voice of Squishington from the American stop motion series Bump in the Night.
He's best known as Raphael from the original Teenage Mutant Ninja Turtles series; Yakko and Dr. Otto Scratchinsniff from Animaniacs; Pinky from Pinky and the Brain; Carl Wheezer from Jimmy Neutron; Gordon from Catscratch; Donatello from the 2012 series Teenage Mutant Ninja Turtles; and now voices Rat, Rabbit, and the Purple Guy from Sky Rat.
Those who know him, know, he is quick witted with a dry sense of humor, yet extremely kind hearted and down to earth. He is a sponsor for Camp Will-A-Way, and is involved in GOALmodels, a project aimed at adolecents to help them find a great path in life. 
Roles in the Series
Edit