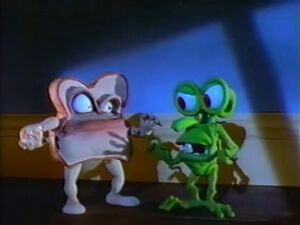 The Living Bread is a character which first appeared in the episode Night of the Living Bread. When Mr. Bumpy dropped a piece of white bread behind the microwave, it became The Living Bread!
Appearance
Edit
The Living Bread is a piece of bread that has mutated with Two Arms, Two Legs, Two feet with no toes, Two eyes the one pupil on the left looks a bigger then the pupil on the right which is smaller and a mouth with a big bottom lip.
Role in the series
Edit
Through out the episode, the Bread goes around stalking Squishington and Bumpy and tries to eat them. The Bread is silent through out the episode and the only spoken line it has is a slow motion "NO". Although the Bread is defeated at the end of the episode, he is sometimes seen at Mr. Bumpy's Karaoke Cafe where he makes cameos he also makes a cameo in the Christmas Special T'was the Night Before Bumpy where he is seen dancing with Big Mike from the episode Baby Jail while Phil Silverfish performs The Dreidle song when the song starts speeding up, The Bread also makes a cameo in the season 2 episode Long Long Day
The Living Bread only appears on one thing of Bump in the night Merchandise which is a Bump in the night sticker set.